Auto shot blasting machine, do you know what it can be used for? Do you know what the auto shot blasting machine can do?
If you want to know what the auto shot blasting machine is used for and what the auto shot blasting machine can do? You must not miss this article. First of all, we have to understand what auto shot blasting machine is, how the auto shot blasting machine is processed and how it works, what types of shot blasting machines are, what processing advantages of shot blasting machine, and so on. Today, the editor of Evertech Blast will share three parts from the auto shot blasting machine itself, the application industry of the shot blasting machine and the specific case of the shot blasting machine. Hope to help friends who are interested in shot blasting machine.
Part1. Auto Shot Blasting Machine Knowledge
1.1. What is the auto shot blasting machine?
Shot blasting is a mechanical surface treatment process. It uses the centrifugal force of the blast turbines of the shot blasting machine during high-speed rotation to project the steel shot at a high speed to the surface of the metal steel, causing collision and blow plays the role of grinding, removing rust and other impurities on the metal surface, and the metal surface produces a certain degree of roughness. Commonly used shot blasting machine types include tumble belt shot blasting, roller conveyor shot blasting machine, hanger shot blasting machine, floor shot blaster, overhead rail shot blasting machine etc.
1.2. What types of Auto shot blasting machine are commonly used?
Firstly,i want to say the simple who is also called entry-level auto shot blasting machine. With the features of low cost, simple operation and easy maintenance, this tumble belt shot blasting machine is always favored by users at home and abroad. Tumble belt shot blast machines are the ideal way to clean and finish batches of components such as castings and small fabrications. The transport belt provides the tumbling action to expose all areas of the components to the blast stream, to ensure complete cleaning in one cycle. After the blast cycle, the automatic reversal of the conveyor discharges the components ready for further processing.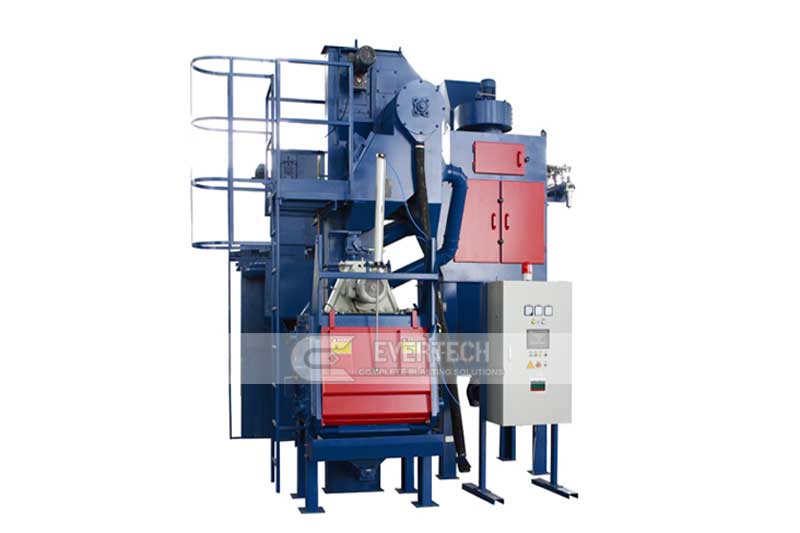 Secondly, i will introduce the hanger shot blasting machine. Spinner hanger blasting machine is designed to process heavy and complex shaped work pieces, which are manufactured in smaller or medium series. Work pieces can weight from 1 kg to 50,000 kg or more. Basic spinner hanger is ideal for less demanding users, as it has predefined characteristics and limited options, but despite all these achieves high production quality. Work pieces are mounted individually or in a cluster on a hook and transported in the machine. Transport system is I, Y or circular closed loop conveyor. Work pieces are blasted in a jet of abrasive, which provides efficient treatment of the surface.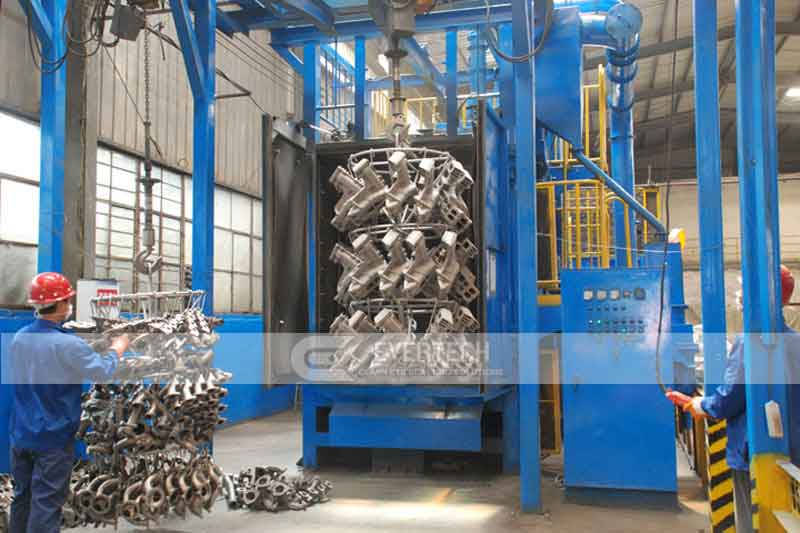 Thirdly, i will introduce the roller conveyor shot blasting machine. Roller conveyor shot blasting machine, mainly used for buildings, bridges and other industries with large I-beam H-beam steel structure such as size pieces of high stress and the surface rust. The workpieces crosses the tunnel laid on a roller conveyor, extendible outside with modular lengths. The surface treatment is done during the running through the blasting chamber.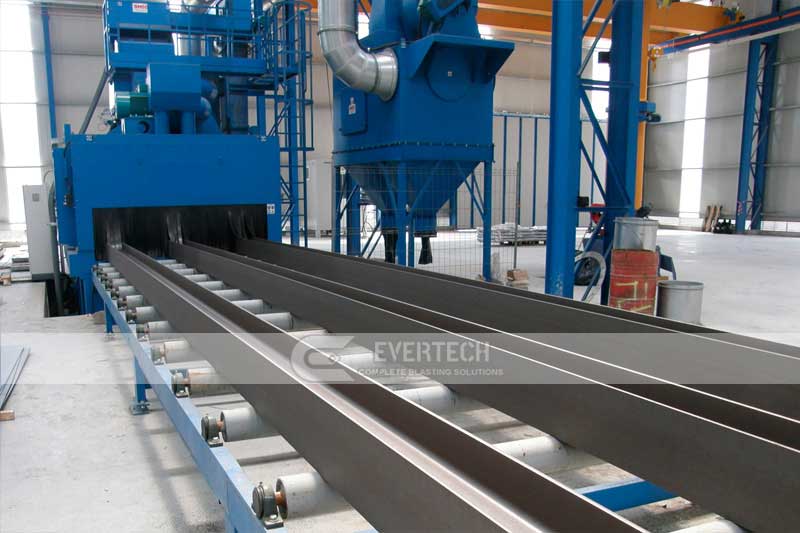 Fourthly, Then i will introduce the rotary table shot blasting machine. Rotary table shot blast machine is used for shot blasting of various part shapes and dimensions, casts and forged parts, pressed parts, steel and non-ferrous metal parts and parts made from fragile materials. The blasting unit does cleans surface, desand casting, consolidate the surface (micro handling), roughing the surface before painting, etc. Rotary table blasting machines are especially suitable for use in small series and individual part production.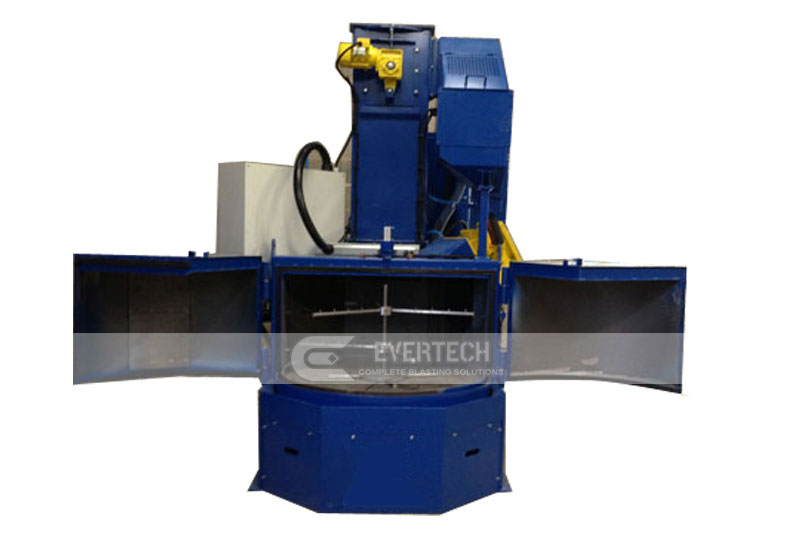 Fifthly, i will introduce the wire mesh belt shot blasting machine. Wire mesh belt shot blasting machine is suitable for continuous blasting thin and collision-sensitive die castings, pressure castings, ferrous and non-ferrous castings, forgings, automotive accessories, and weldments. Workpiece weight ranging from 1kg to 100kg. A highly wear-resistant wire mesh belt, with tension adjustment, provides the part transport. Wire mesh belt width has 600mm, 800mm, 1000mm and 1200mm.
Sixthly, i will introduce the pavers shot blasting machine. Pavers shot blasting machine is mainly used for surface roughening treatment of marbles, granites, concrete products, and natural stone. It provides twin advantage foremost subject field end provides outstanding appearance as a result of the rough surface and therefore the exposed aggregates. Second "roughened" surface has excellent non-slip properties.
Seventhly, i will introduce the pipes shot blasting machine. Steel pipe moves through the machine on skew roller conveyors or roller conveyors or tire conveyor. Such form of the conveyor provides simultaneous rotation and transition movement of the pipes through the machine, which can achieve evenly blasted surface.The shot blasting part of the machine's robust housing is protected by wear-resistant shields made from manganese steel. Entry and exit seals chamber with a series of rubber screens keep the abrasive inside the machine. Screw conveyor, an elevator and sand cleaner provide returning and continuing cleaning of the abrasive. Standard equipment includes PLC Siemens, display, automatic or manual mode, automatic start-up of turbines, working-hours counter, variable frequency drive of the cylinder drive, etc. Machines may be built into highly productive lines for basic color application, including drying chamber, automatic coloring chamber and drying tunnel.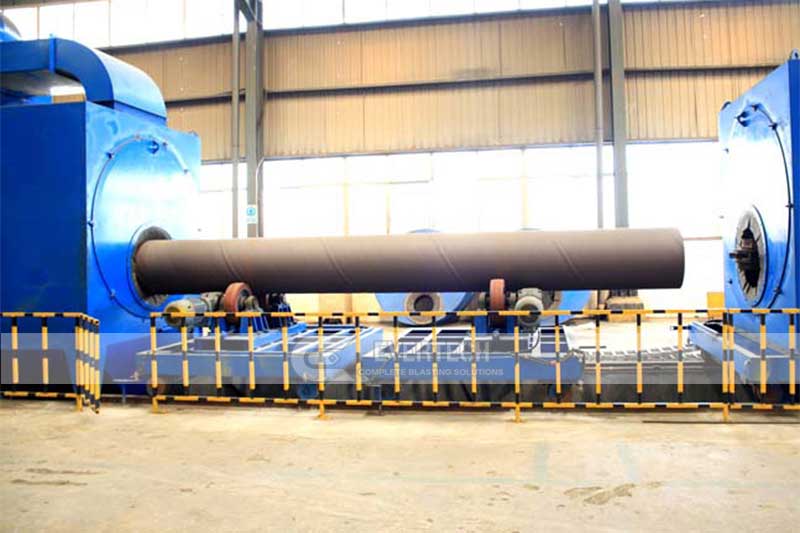 Finally, i will introduce the continuous overhead monorail shot blasting Machine. The flexibility of overhead monorail transport offers a variety of possibilities for optimum material flow and contributes to a considerable reduction of finishing costs. Monorail systems solve for blast cleaning and handling problems, fitting seamlessly into a production line. The transport hanger is loaded with components outside the machine and then moves into the shot blast cabin where all surfaces of the workpieces are treated in one passage.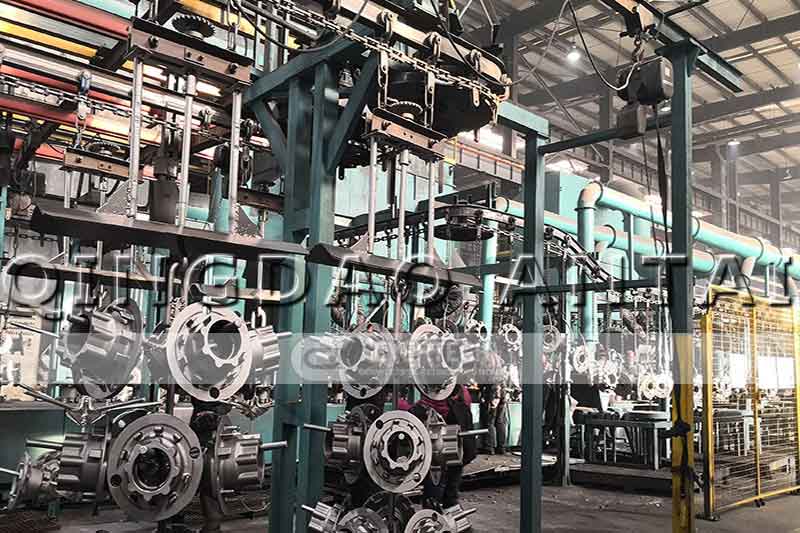 Part 2: Auto Shot Blasting Machine Application
Shot blasting machine is a processing technology which steel shots impacted on the surface of material objects at high speed through blast turbines. Compared with other surface treatment technologies, it is faster, more effective, and can be partially retained or the casting process after stamping. The blasting machine is widely used by domestic and foreign users in various industries such as the steel fabrication, bottles, marble and cement, castings, machine and system engineering, etc.
1.Steel Fabrication
Shot blasting machine/sandblasting equipment for removing mill scale and rust, and for profiling the surface of fabricated steel parts in preparation for protective coatings.
For descaling steel shapes, flats and fabrications, Evertech has designed and delivered automated airblast and wheelblast solutions, including Roller Conveyor blast machines, Hanger type/Monorail blast machines, Bogie Table/Work Car blast systems, Skew Roll blast machines, plate and structural steel Preservation Lines, manual Blast rooms, and dust collector ventilation systems.
2.Bottles
Examples of treated products
-Household gas bottles
-Oxygen, argon, elio bottles
-Hospital use bottles
-Acetylene bottles
-Diving bottles
-Fire extinguisher bottles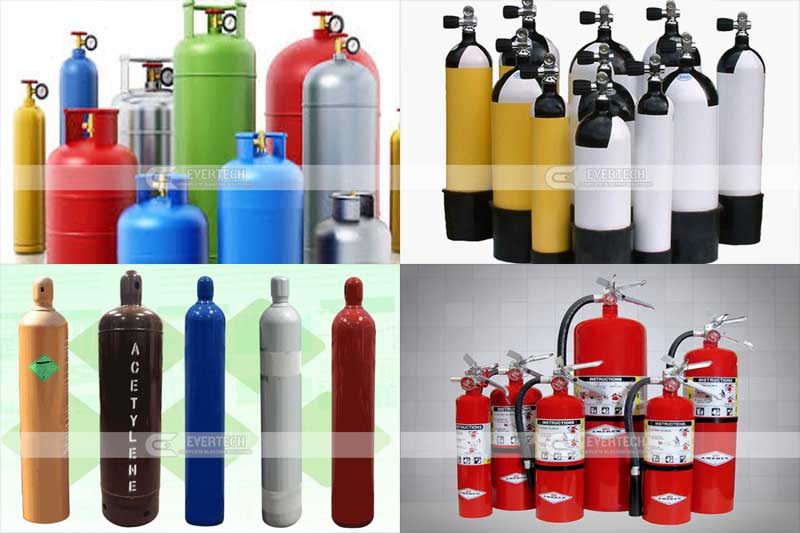 3.Marble and Cement
Shot blasting or surface preparation is not always used for cleaning, polishing or strengthening, and the materials being blasted are not always metal.
The finishes achieved on concrete blocks can be purely aesthetic. Once treated, the concrete supplier can sell his product at a much higher price, and to a wider market as the concrete is more attractive and can be used in more domestic and commercial build projects.
4.Casting, Forging
Sanding and descaling of die-cast components are some of the highest requirements for surface finishing. Whether cast iron, steel, aluminum, zinc or magnesium or plastic: The comprehensive portfolio of Evertech blasting and mass finishing systems for the foundry industry enables the optimal process for any requirement. The selection of the right system depends on the production method and production flow as well as the type, quantity and size of the components.
5.Machine and System Engineering
Evertech's machines are used in machine and systems construction for cleaning, roughening, smoothing, deflashing and surface sealing. The bandwidth ranges from simple manual machines to fully automatic linked systems, from mass finishing applications in the most varied forms to systems for precise pressurized air blasting or blasting with highly efficient turbines to industrial washing systems. User-related solutions are our strength.
6.Automotive
The shot blasting machine used in the automobile industry is mainly to clean the car body or weld seam and strengthen the workpiece. After roughing and shot blasting, the surface has a certain roughness, which makes the coating effect better and improves the overall use life. The strengthening effect is mainly aimed at strengthening the engine crankshaft and other output parts, eliminating internal stress and improving strength.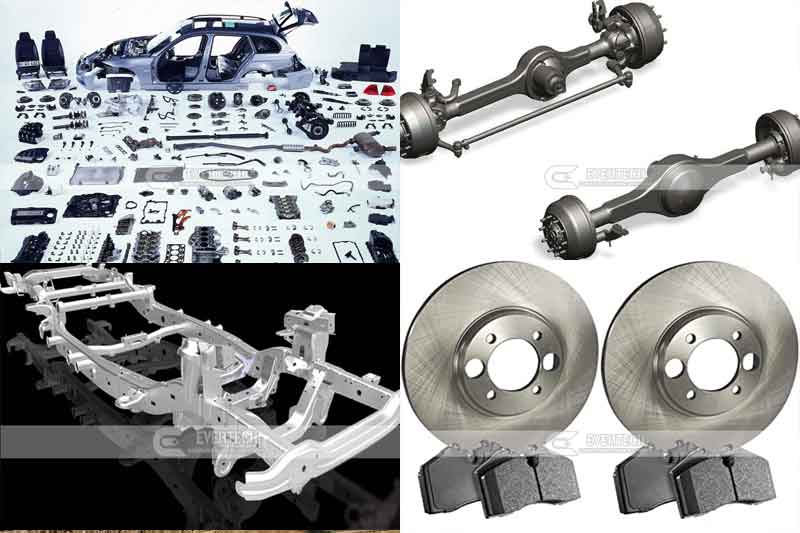 7.Tools
Mass finishing and blasting systems for the tool industry: For more efficiency in your manufacturing process
In trade and industry, the demand for gentle treatment of surfaces is constantly rising. Through the high degree of innovation and quality of mass finishing and blasting machines, you save not only time and money, but create a decisive competitive edge.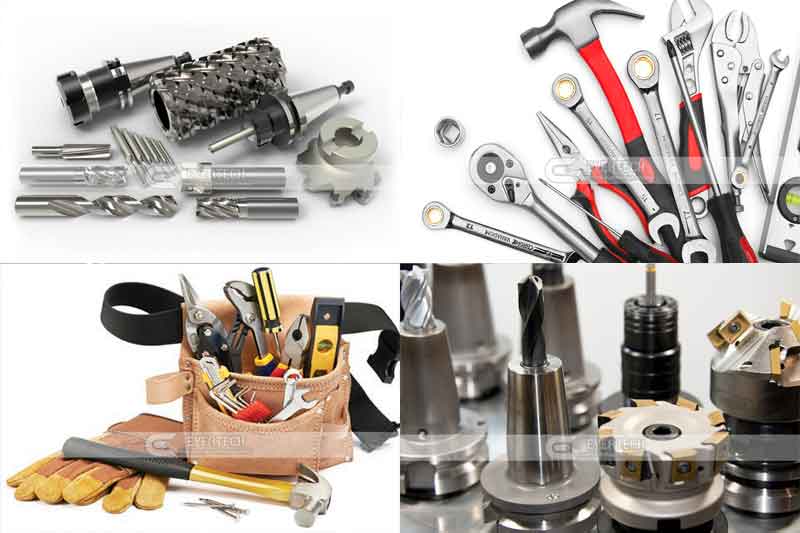 8.Aluminum
As the demand for lightweight components increases and the environmental impact and consumption of resources must be constantly reduced, requirements are ever changing for the surface preparation of die-cast and aluminium parts.
Evertech's shot blasting machines are efficient, reliable and resource saving, and comply with the stringent expectations of aluminium smelters worldwide. The machines are specifically designed for surface treatment and deburring of aluminium parts.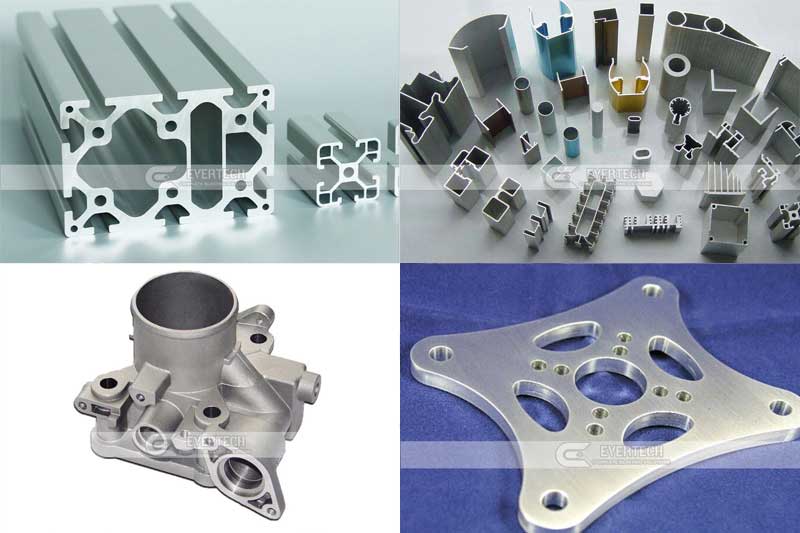 9.Shipyards
Ship Building Steel plate - Pre-heating, blasting, coating, drying The size of metal sections used in the ship building industry presents great challenges for surface preparation and treatment suppliers. Huge quantities of sheet steel, profiles and fabrications have to be cleaned, treated and painted before final assembly. Corrosion protection is of paramount importance.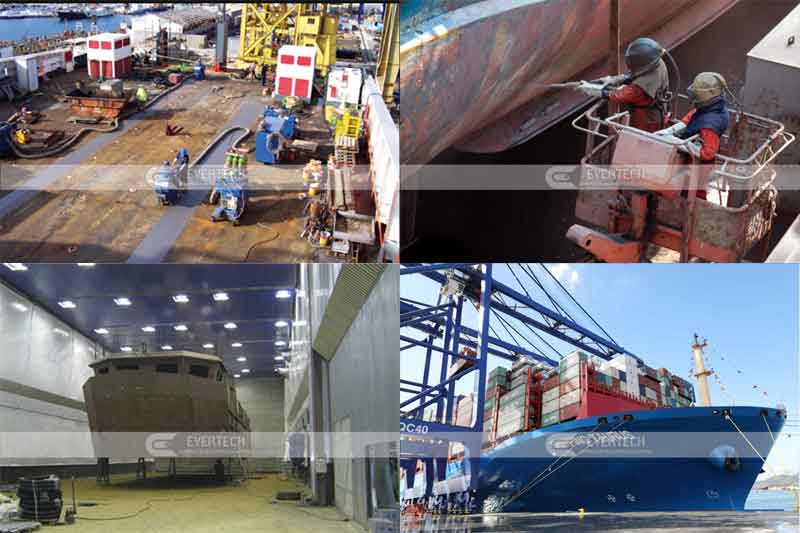 10.Painting and Coating
When you need temporary corrosion protection of plates and profiles, the challenges for optimal surfaces are constantly rising. Product qualities such as high cost-effectiveness and environmental friendliness are conditions for meeting the growing surface requirements. Evertech has a number of innovative machines for surface finishing for painting and coating in its program.