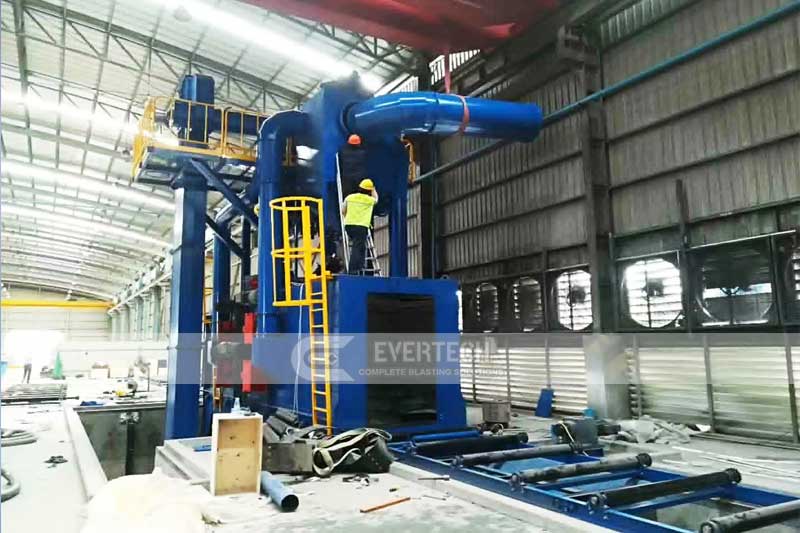 This steel structure blast cleaning machine can process steel structure, beams, profiles, welded parts, etc. This Spanish customers customer contacted our company by sending us a message through our website:www.allblastingtec.com. He mainly mblast cleaning steel structure, beams, etc . Because the customer wanted to buy a good quality, professional, and high-end blast cleaning machine, so very careful, he did a lot of research related to the machine. After the research, he finally decided to choose between EVERTECH BLAST and local supplier. We showed the customer our factory and the completed and in-production machines in the workshop. All kinds of high-end machines can be found in our workshop, like the ATC CNC router, 4 axis ATC wood CNC machine, ATC CNC machine with drilling head, six-side drilling machine, etc. And we also introduced our professional after-sales team. Our engineers can speak fluent English and can help customers solve problems through various online methods such as email, WhatsApp, or Skype. After careful consideration of all aspects, the customer finally chose us. This is our finalized machine configuration.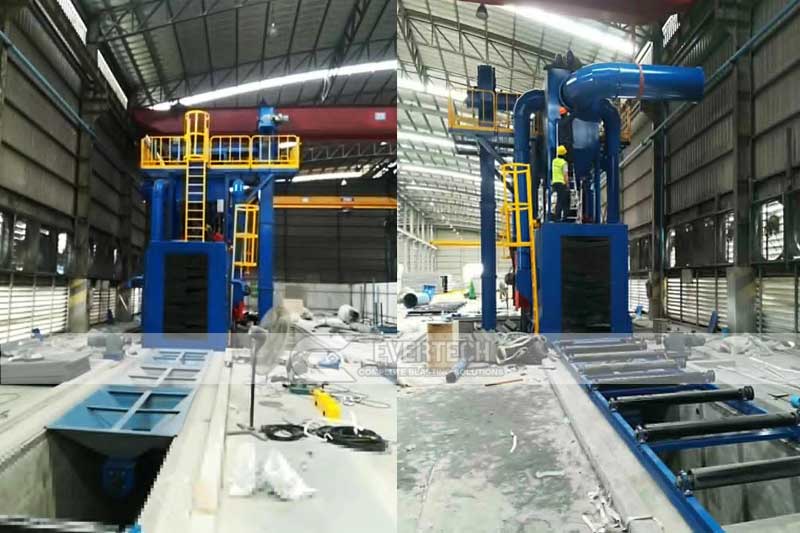 1. The blasting chamber open size is 1600*2800mm with 12m roller conveyor.
2. With 12 sets blast turbines, our engineering team uses 3-D dynamic simulation design blast turbines layout to ensure that the steel shot ray can cover the surface of the workpiece 360 degrees.
3. Equipped with the Siemens PLC intelligent control system, the display is very large and easy to operate.
4. Shot blasting chamber with Mn13 steel guard plate which has high impact toughness and high service life, fully realize the reflection function of abrasive and improve the cleaning quality.
5. 3+ layers of sealing curtain in inlet, outlet opening and between chambers that prevent the abrasive spatter out during the blasting and ensure the safe.
6. The roller conveyor in blasting chamber has high chromium molybdenum wear resistant cast iron sheath, that can protect the roller conveyor avoid abrasive.
7. 2 sets photoelectric sensor system are located at the inlet and outlet the chamber, grating density can be selected according to the size of the workpiece, used in pairs.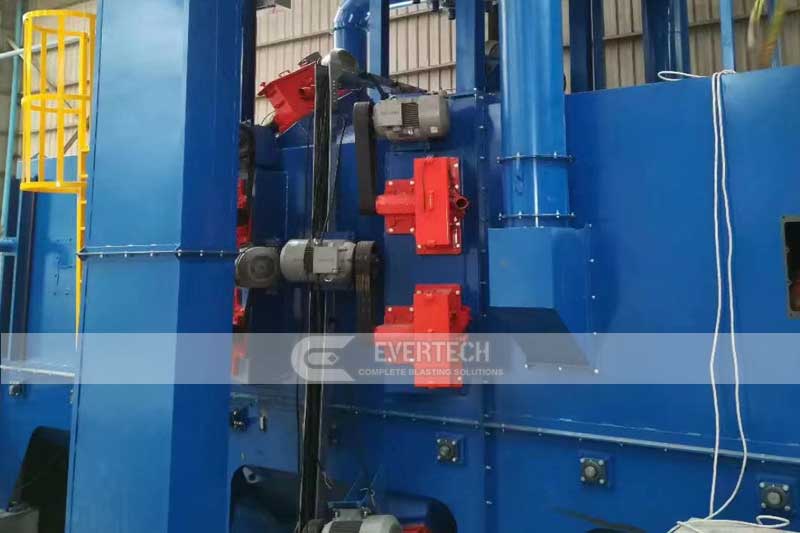 The customer will soon be able to provide his production efficiency with this professional and high-quality steel structure blast cleaning machine! As a professional factory, we have many different machines to meet your needs. No matter what industry you are in, whether it is castings, metal processing, or construction industry, you can have the right machines in our factory! Please don't hesitate to contact us, we will provide you with professional solutions!