Thanks for our customer chose us. Today, the Wire Mesh Conveyor Shot Blasting Machine will be shipped. The machine is very suitable to precise casting parts thin-walled iron casting thin-walled aluminum casting ceramic parts.
Wire Mesh Conveyor Shot Blasting Machine Features
Continuous blast process
Highly efficient blast wheels
Mesh belt made from hardened manganese steel
Many different workpiece shapes can be blasted
High process reliability
Easy integration in the production process
Versatile machine sizes and variants
The Process
Wire Mesh Conveyor Shot Blasting Machines can be optimally integrated into your production process. The workpiece can be taken directly from your conveyor and blasted in continuous operation. An adapted mesh belt made from manganese steel transports it into the blast chamber. The powerful blast wheels are arranged at an angle to the direction of the workpiece, so even complex formed parts can be safely blasted in a passthrough operation.
The number and the power of the blast wheels, and the passage speed of the parts, are selected according to your required blast results, at a process speed to integrate smoothly with your existing production line.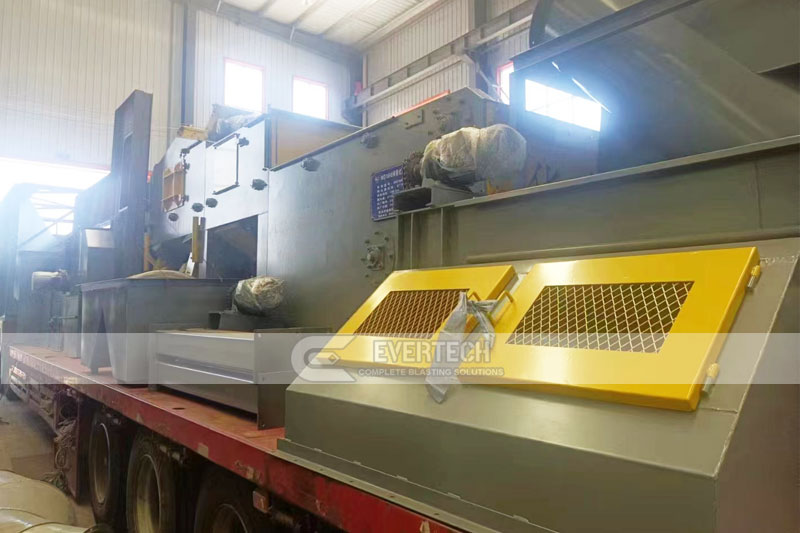 Contact Us
Whether it is machine consultation, machine orders, or technical support, if you have any requirements, please contact us. Looking forward to your patronage, Evertech Blast will provide you with online services 24 hours a day.